Fresh vegetables
Meet us in front of the town hall in Niederhaslach every Wednesday morning from 8am to 12am and next to the multi-purpose hall in Oberhaslach every Wednesday from 4pm to 8pm. You can also get your vegetables directly at the Clos du Haslach, 13 rue du Bâtonnier Baumann Niederhaslach by calling 06 28 16 23 13 or 06 99 63 57 07.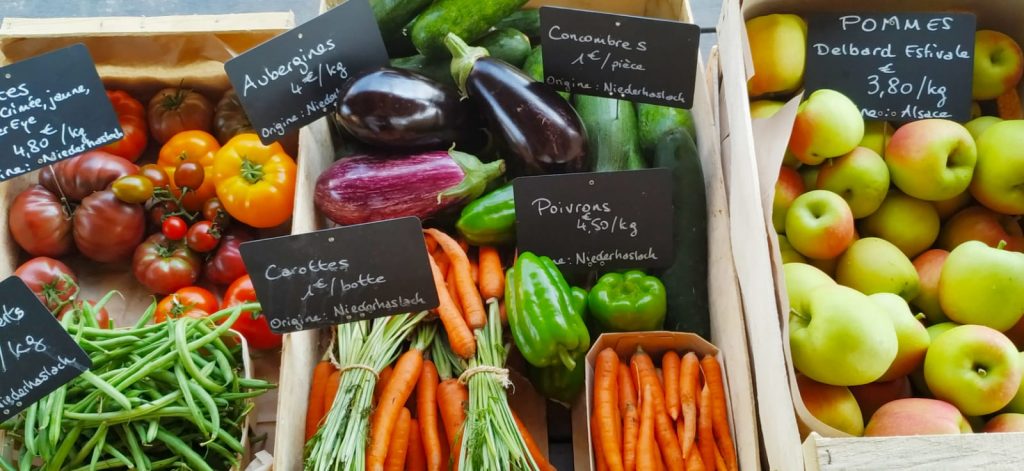 Meet us on the marketplaces on Wednesday mornings in Niederhaslach and evenings in Oberhaslach.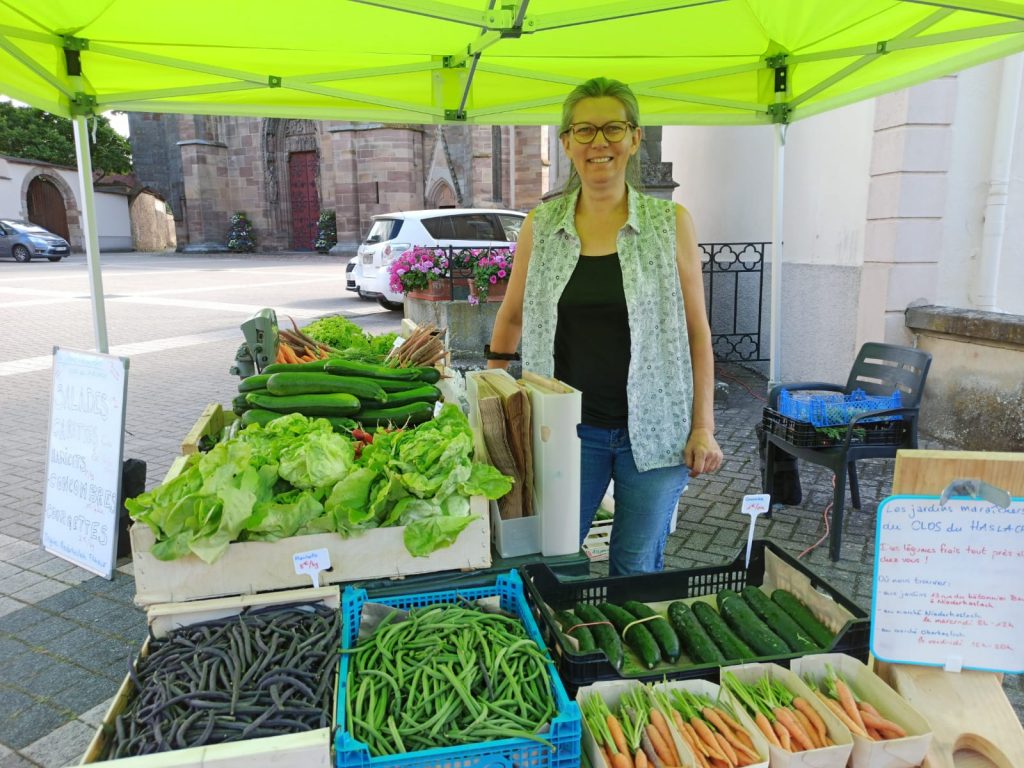 Our story
Why drive for kilometeres for a fresh lettuce or other vegetables ? We have been preparing our garden for vegetable cultivation for a few month now. Living in such a magnificent place makes us feel fulfilled, and we want to preserve it. Our gites have been receiving travelers from everywhere in the world for 3 years. They are discovering Alsace and can enjoy the peaceful environment and breathtaking view of the Vosges mountains our small village is providing.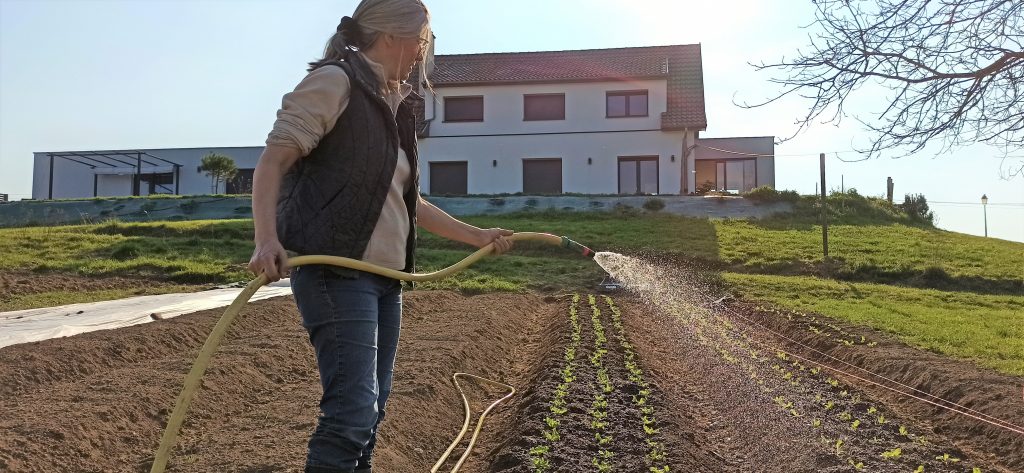 We love people, we love what God has created and therefore we respect our land.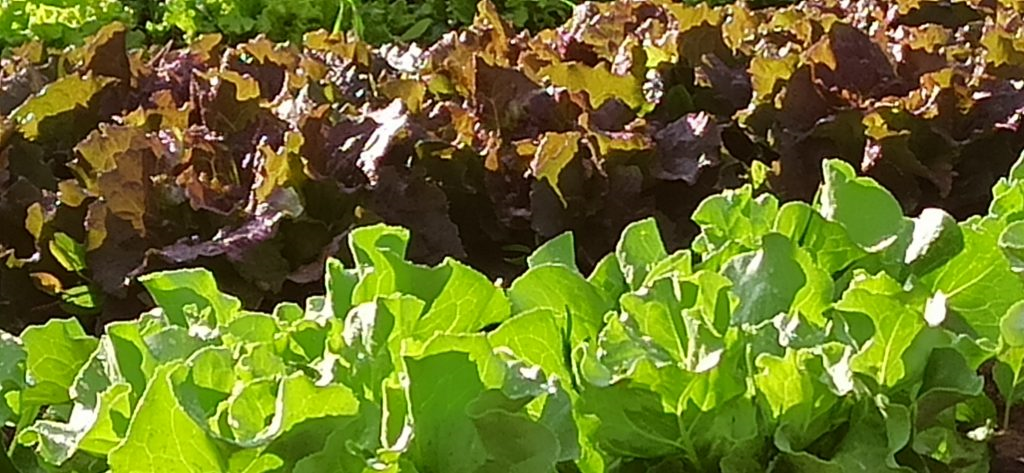 Offering an additionnal service to our customers was the main idea, but we figured out our neighbours and the inhabitants from the near villages were also interested in buying fresh and local vegetables. We also wish to give the opportunity to the villagers to supply themselves with fresh vegetables every Wednesdays in Niederhaslach and every Fridays in Oberhaslach.
Vegetables cultivated « by hand » in Niederhaslach
The market gardening techniques we are using (and discovering) are inspired from the one used by Paris market gardeners who until 1920 were providing the capital with fruits and vegetables. They were reputated for their creativity and their ability to produce important amounts of vegetables on small surfaces. We are cultivating on 75 centimeters width and 15 meters long "growing beds". Those growing beds have been prepared with a cultivator which is the only machine used in our garden.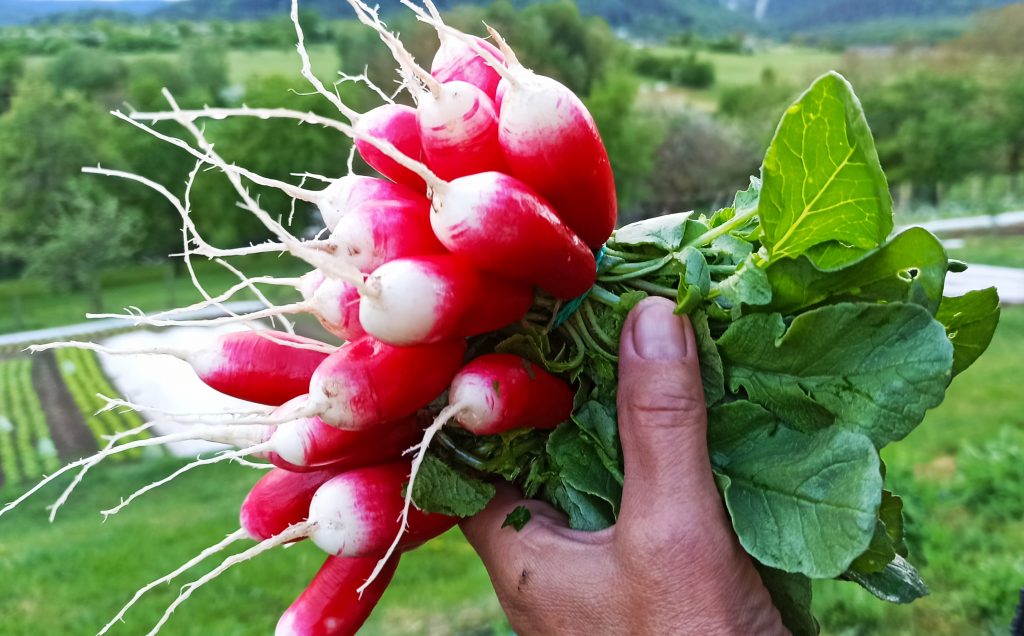 The growing beds will never be ploughed nor dug, but simply, weeded with a hoe, ventilated with a "grelinette", enriched with compost and sometime with a small amount of bio fertilizer. Most of our work is done by hand and without chemical pesticide. To fight against destructive animals/insects, we use natural products such as nettle liquid manure, soft soap… and we try to develop an ecosystem that will, within years, should find its own balance and support the protection of our crops.
Seasonal vegetables
If forcing methods invented by market gardeners are helping to produce early fruits and vegetables, we will not make miracles. Each vegetable has its own season. They will be harvested and offered for sale when mature enough. We will display on our Facebook page the vegetables available across the season.